If you are part of a charity or group we understand that you may be trying to organise all kinds of events and fundraisers that are time consuming and sometimes stressful, so we want to make sure that the t-shirt organisation is as simple as possible.
Our staff will work with you to make sure things progress as quickly and smoothly as possible so that it is one part that you do not need to stress about. We are happy to help with some design work at very reasonable rates. Please contact us for more information on this.
We offer bulk discounts for larger offers and we are happy to work with you in getting the deal that is right for you.
Campaigns for Charities and Groups
Campaigns allow you to set up a short term website that you can sell t-shirts or other products to people you share it with. It is only one page and it very simple to set up. It is available for a set period of time with a maximum of a 21 days. It is fully hosted and you don't need to get a domain name or get hosting!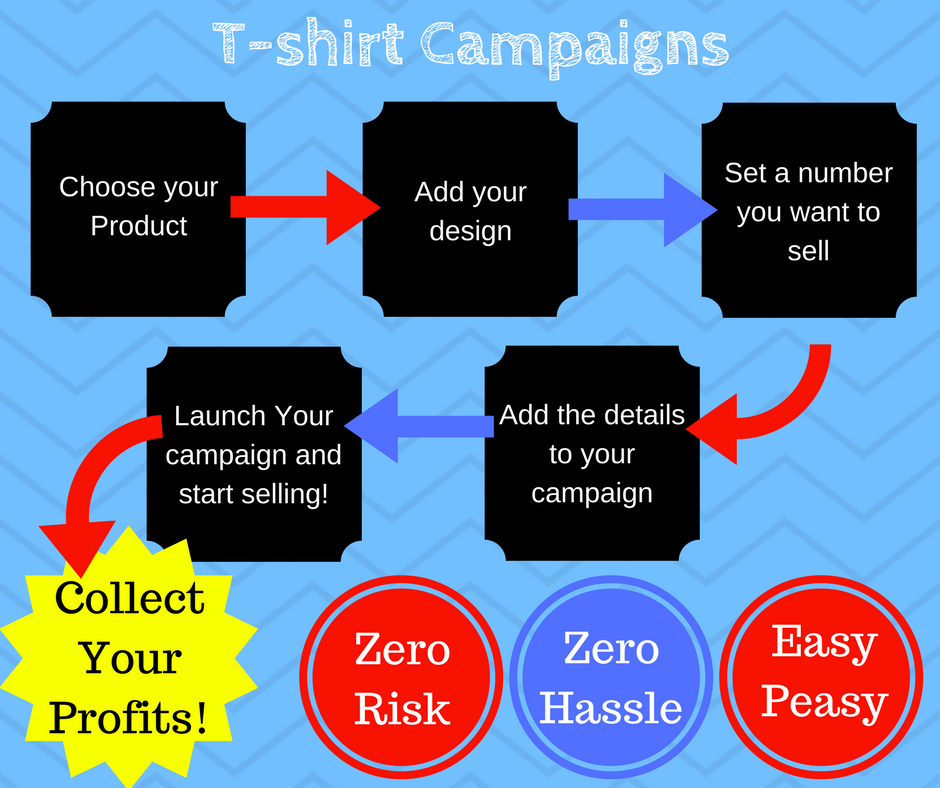 You choose your product, add your design, decide how many you want to sell, choose your selling price and share it on social media or on your website. We take our cost for producing the t-shirt and you get all the profits! The products only go into production when the goal number of sales has been reached. The payments are then authorised from your customers. All this is free!! There are no costs to you. If your goal is not reached no t-shirts are made and no money is collected. Don't worry you can sell more than your goal though!
You don't have to buy the t-shirts up front and as nothing is made until the goal is reached there is no risk! No boxes of unwanted sizes!
To set one up have a look at our Campaigns Page.
If however you are looking for a more long term solution the one of our free web-stores is for you!
Web-stores for Charities and Groups
A web-store is similar to a campaign except that it has no limited time frame and no limit to the number of products you may offer. As with the campaign it is fully hosted and you do not need to get a domain name we will provide both!
It consists of a full website with the ability to have as many pages as you want. It is fully HTML and CSS customisable but it is also very easy to customise using our easy to use templates which suites the complete novice.
You can choose as many products as you want to have available on your site and as with the campaigns we take our wholesale price and you will receive the rest of the profits as a commission payment at the end of the month!
These sites take a little longer to set up than the campaign but we have a great guide to help you along with the process which is available here.